1980's: How To Get The Look
posted on 1/18/13
Heading to an 80's party or just looking to infuse your wardrobe with inspirations from wild 80's fashions? Then you're probably also looking for some 80's makeup, hair and style tips to stay one step ahead of the other Breakfast Club wannabes!


The 80's was a new dawn filled with neon rays of light. Everything was bigger, brighter, and in-your-face-er. Some people think pulling off the 80's look is easy, but if you follow our advice, you will outshine these simpletons and expose them for the fraudulent fashionistas they are.




Hair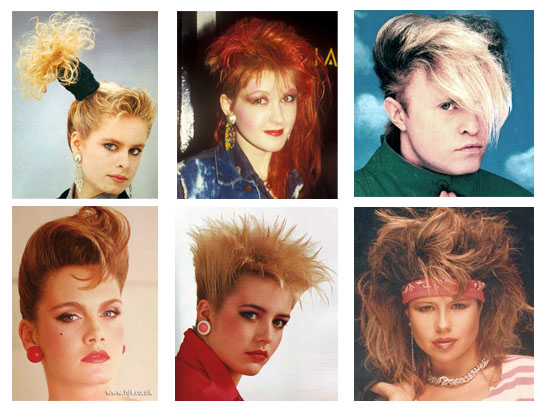 80's hair relied heavily on hairspray, mousse and gels. Big, curly, or feathered hair was the norm. Some people sported bright, neon colors in their unruly manes. Now-a-days we have extensions to help us achieve this look without the permanent damage. Other popular hairstyles included the high top/side pony, the slicked bob and the newly re-famous faux hawk.




Makeup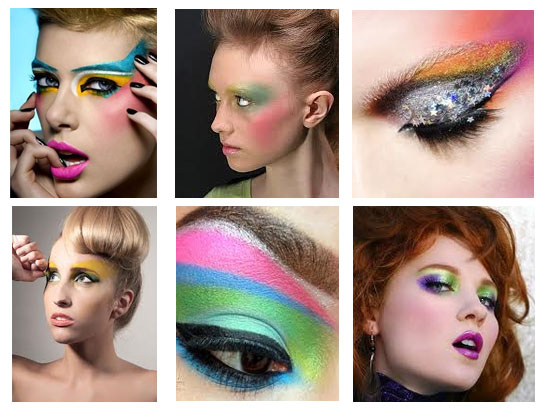 Makeup in the 1980's was a form of art! Women and even some men used a heavy hand to paint their faces on. Bold eyes and accentuated cheek bones were the most important thing to focus on when applying makeup. 80's eyes needed to be dramatic, which meant applying layers and layers of liner and bold shades of shadow. Eye shadow hues of green, purple, pink, and blue were the standard. Women loved to put on lipstick that popped and blush that highlighted their cheekbones dramatically. Body glitter was another common element that was applied liberally in the 80's!




Step One: Apply liquid foundation and concealer and set it with a translucent loose powder. Even though people in the 80's often used matte and heavy compact powders, that doesn't mean we have to!
Step Two: Use blush and bronzer. Apply the bronzer tastefully in a number three shape. Allow the pink blush to go from the apples of cheeks and backwards for a more authentic 80s makeup look.
Step Three: Apply highlighter. Highlighter was used everywhere and anywhere in the 80's – often in shimmering gold. Feel free to use bright, iridescent yellow, pink or peach over the cheek bone, over the lip and around the eyes.
Step Four: Use strong accents on the eyes. Line them first with good black eyeliner. Line your top and bottom lids, as well as the skin right under your lower eyelash line.
Step Five: You can do a multi-tone application of eye shadow using three different colors, or maybe just work with colorful eyeliner. Use bright colors such as lime green, purple, blue, pink and yellow to make your eyes pop.
Step Six: Play with glitters, but don't go overboard. Apply some on top of your eye liner or even your eye shadow as long as it is maintained close to the lashes (under or over the eyes). You can also add some glitter to your lip-gloss or lipstick if you want!
Step Seven: Don't forget the mascara to finish off your 1980's eye makeup application. Get wild with non-traditional colored mascaras like blue or green!
Step Eight: Finish off your look with some bright pink or purple lipstick. If you are feeling extra daring, go ahead and apply a funky color on your pucker (blue, yellow, orange).


Click Link Below for All :
1980s Theme Party Fashion & Accessories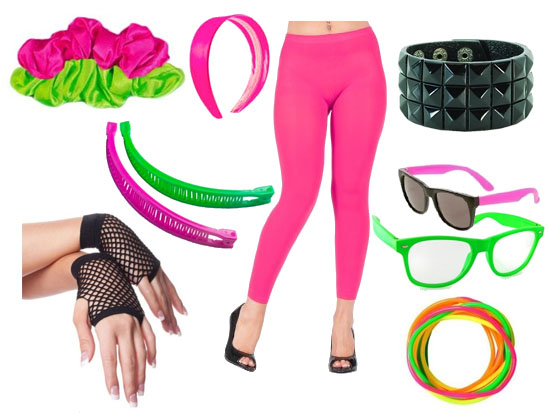 Lastly, to complete the 80's look you will need to dominate the Fashion and Accessory department!
Here is your 1980's Ultimate Fashion checklist:
Acid-wash jeans (bonus points for those with a tapered leg and ankle zipper)
High top sneakers
Leggings (with or without stirrups)
Shoulder Pads